We started the year well at Lucas Logistics. We have received 4 brand new Schmitz trailers. The trailers were delivered by T.S.I. in Dongen. With the adding these beautiful trailers into our fleet, we are expanding our fleet even further in order to continue to provide our customers with the best service efficiently and sustainably.
Perfect for transporting machines
The Schmitz trailers are equipped with a curtainside superstructure, with a sliding roof, two lifting axles and a reinforced loading floor. The trailers will be used for the international transport of machines. By purchasing the trailers, we are able to meet the various requirements of our customers even better.
The trailers are provided with the EN 12642 certificate
The EN 12642 certificate is a European standard for the safety and stability of loading platforms on trucks. The standard defines the requirements for the construction of the bodies, including the strength of the walls, floors and roofs. Trucks that meet this standard are considered safe and suitable for the transport of various goods. Obtaining the EN 12642 certificate requires an extensive inspection and testing procedure, which is carried out by an independent certification body.
Intensive collaboration with TSI in Dongen
In addition to supplying trailers of excellent quality, T.S.I. also an ideal partner who thinks along with our processes. For example, the trailers are always delivered turn-key with all the accessories we need for safe and effective transport. Think of lashing straps, stop-bars and protective material such as anti-slip mats and corner protectors. Thanks to this intensive cooperation, we are always able to deliver the quality you have come to expect from us.
Expansion of the Lucas Logistics fleet
In addition to this current expansion of the number of trailers, we are also busy expanding and renewing our fleet. As a result, we want to provide our customers with even better efficient and sustainable logistics solutions. In the upcoming period we will keep you informed on these developments through our social media channels.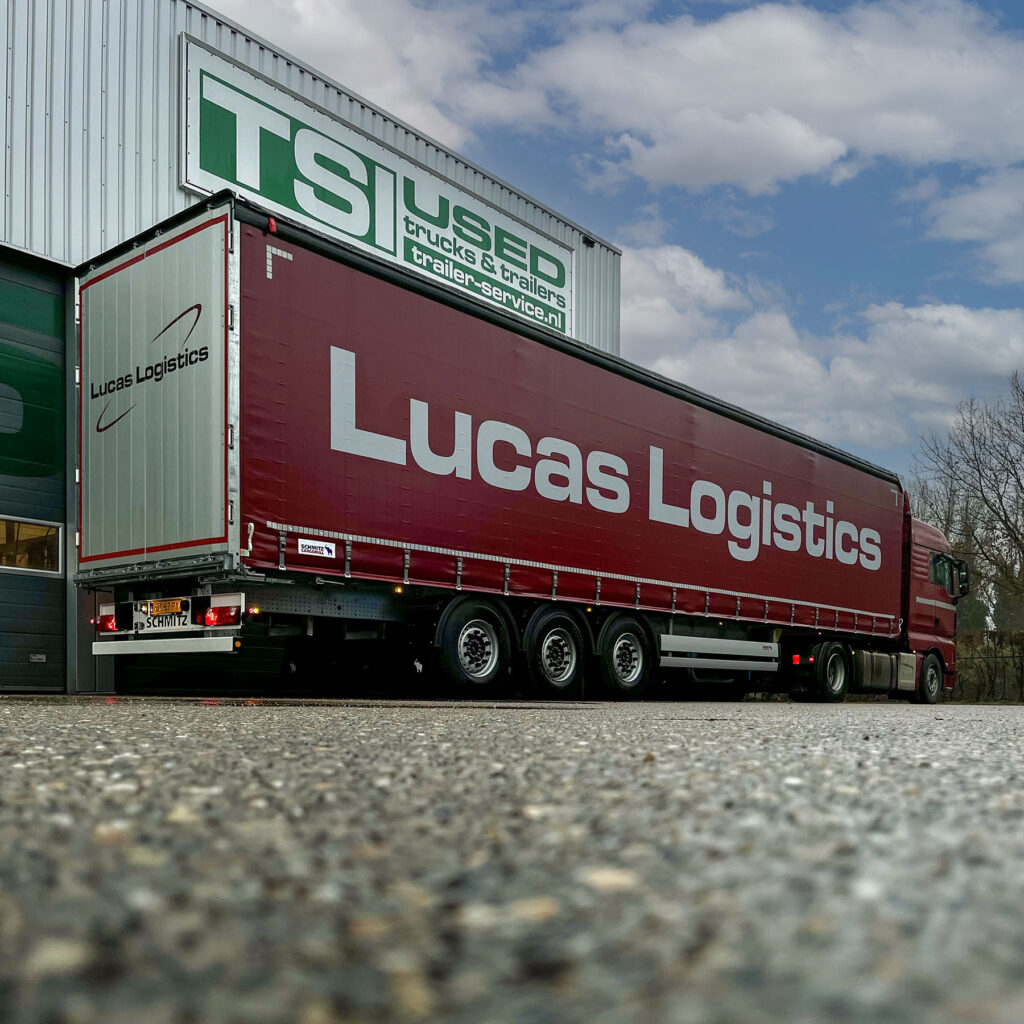 Would you like to work at Lucas Logistics yourself?
Do you also want to get on board the Lucas Logistics team and work with the latest cars and trailers? We are always looking for enthusiastic people who share our passion for logistics. So feel free to take a look at our vacant positions. Who knows, you might be the new colleague we're looking for!